With more than 3.5 million points of interest and more than 9.8 million km of road coverage throughout the continent, City Navigator Europe NT delivers all the data you need to navigate Europe. City Navigator brings you the most detailed street maps available so you can navigate with exact, turn-by-turn directions to any address or intersection. You also can route to restaurants, petrol stations, lodging, attractions and more. Powered by NAVTEQ, a world leader in premium-quality digital map data.
Features:
- Includes full country coverage for Western Europe and many countries in Eastern Europe as well as French Guiana and the islands of Malta, St. Barthelemy, Martinique, Guadeloupe and Reunion.
- Includes increased detailed coverage for Romania and Ukraine.
- Includes more than 10.2 million km (6.3 million mi) of roads, including motorways, national and regional thoroughfares and local roads, in Western Europe and many countries in Eastern Europe.
- Displays more than 4.9 million points of interest throughout the country, including restaurants, lodging, border crossings, attractions, petrol stations, campsites, shopping and more.
- Gives turn-by-turn directions on your compatible device.
- Enhances pronunciation for compatible devices that speak street names (example: "Turn right on Main Street").
- Includes navigational features, such as turn restrictions, roundabout guidance, speed categories and more.
- Contains traffic data for compatible devices that use traffic receivers.
(DVD only) Includes computer software that lets you plan trips on your computer and transfer waypoints, routes and tracks between your computer and your device.
This file Contents:
Image FULL Locked
Image FULL UnLocked
MapSource Locked: Original with .msi installer
3D Locked
3D UnLocked
JCV Files: D2504060A, D3084030A
SQLite
G2S
ASR
CityXplorer Europe 2012.30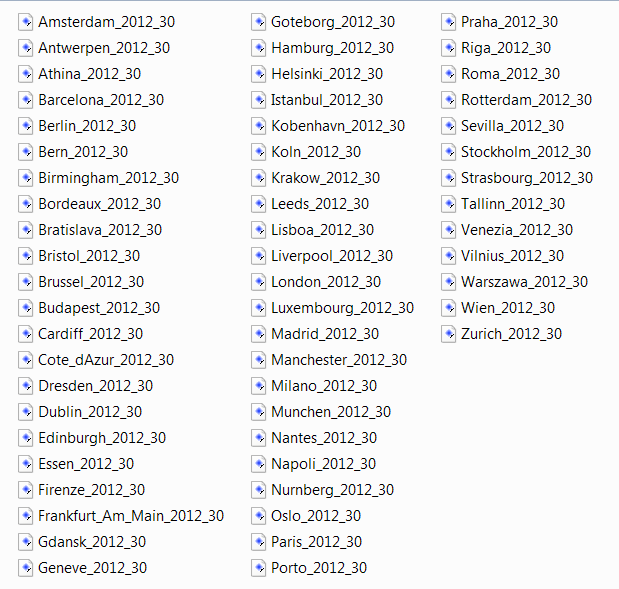 With cityXplorer maps you can access all the information you need to get around the city you're visiting on foot or public transport .
If you're visiting a new city on holiday or business, a cityXplorer map downloaded to your nuvi helps you get around just like a local. The enhanced pedestrian mode gives you walking directions, including footpaths and shortcuts through parks, with landmarks indicated along the way. The public transport mode tells you where to catch trains, buses and tubes (where relevant) and how long it will take to reach your destination. cityXplorer public transport timetables ensure you arrive at the station on time and don't have to wait too long for your connection.
This first file added to your CityNavigator Europe NT 2012.30 will allow you to use pedestrians features and public transports in every big city in Europe,the file will add CXs features to 57 Europeans cities in your GPS.
note :
to use this file you must have CNEU NT 2012.30 in your nuvi .
Unlock EPM with .unl file made with Jetmouse for FID 800 on every compatible devices*
(Dont use unlockers , dont use in JM kg. CNE FID or PID 2 etc).
Add cityxplorerEU_2012.30.img in Map folder along its cityxplorerEU_2012.30.unl file-
The second file is a pack of all the European cityXplorer 2012.30 maps to work in every CX compatible devices* .
This is a complete map, you can use it alone in your gps or even along the CNEU NTU map.
To unlock pedestrian features and public transports add the FullCXEU_2012.30.unl file made with Jetmouse KG and FID 800.
(Dont use unlockers , dont use in JM kg. CNE FID or PID 2 etc).
Put the two files in your "Map" folder preferably in sd.
Note:
to have 3D buildings in CXEU map,use GMAP3D.IMG NT posted in CNE NT 2012.30 thread ,rename it to FullCXEU_2012.30_3d.img and copy it in sd along FullCXEU_2012.30.img (samename_3D.img) and delete GMAP3D.IMG NTU from .System .
3D buildings will show in CNE NTU and in CXs . Tested working in my 3790

GARMIN ADDITIONS FILES (ASR, G2S, DB, 3D...)What & How to update.
https://docs.google.com/document/d/1-Giz22QyT55xMATLdbQyu-rixTAsC2r4-lZozcUj8yE/edit

http://www.filesonic.com/file/3865247894/CityXplorer_Europe2012.30.rar

http://www.filesonic.com/file/3866327474/NT30_2012.part01.rar
http://www.filesonic.com/file/3865895744/NT30_2012.part02.rar
http://www.filesonic.com/file/3866325294/NT30_2012.part03.rar
http://www.filesonic.com/file/3865893054/NT30_2012.part04.rar
http://www.filesonic.com/file/3866327454/NT30_2012.part05.rar
http://www.filesonic.com/file/3866735774/NT30_2012.part06.rar
http://www.filesonic.com/file/3869826074/NT30_2012.part07.rar
http://www.filesonic.com/file/3867693074/NT30_2012.part08.rar
http://www.filesonic.com/file/3868758624/NT30_2012.part09.rar
http://www.filesonic.com/file/3869823894/NT30_2012.part10.rar
http://www.filesonic.com/file/3866735814/NT30_2012.part11.rar

http://www.wupload.com/file/2329468392/CityXplorer_Europe2012.30.rar
http://www.wupload.com/file/2329466672/NT30_2012.part01.rar
http://www.wupload.com/file/2329475132/NT30_2012.part02.rar
http://www.wupload.com/file/2329466857/NT30_2012.part03.rar
http://www.wupload.com/file/2329473062/NT30_2012.part04.rar
http://www.wupload.com/file/2329467197/NT30_2012.part05.rar
http://www.wupload.com/file/2329468307/NT30_2012.part06.rar
http://www.wupload.com/file/2329475177/NT30_2012.part07.rar
http://www.wupload.com/file/2329475847/NT30_2012.part08.rar
http://www.wupload.com/file/2329478282/NT30_2012.part09.rar
http://www.wupload.com/file/2329481157/NT30_2012.part10.rar
http://www.wupload.com/file/2329471887/NT30_2012.part11.rar

http://filepost.com/files/867de573/CityXplorer_Europe2012.30.rar/
http://filepost.com/files/ab52a99d/NT30_2012.part01.rar/
http://filepost.com/files/d5675361/NT30_2012.part02.rar/
http://filepost.com/files/a7e17a38/NT30_2012.part03.rar/
http://filepost.com/files/aa75523c/NT30_2012.part04.rar/
http://filepost.com/files/d2f8f49e/NT30_2012.part05.rar/
http://filepost.com/files/emf732c2/NT30_2012.part06.rar/
http://filepost.com/files/ddbm5a56/NT30_2012.part07.rar/
http://filepost.com/files/mbffe49m/NT30_2012.part08.rar/
http://filepost.com/files/8a34d295/NT30_2012.part09.rar/
http://filepost.com/files/1c755cbf/NT30_2012.part10.rar/
http://filepost.com/files/fe564c48/NT30_2012.part11.rar/

http://ul.to/5uk1xkm4/CityXplorer_Europe2012.30.rar
http://uploaded.to/folder/x4j7kg