Urdu InPage Professional 2011
:::...+92322-8118228...:::
Urdu InPage® Pro 2011
is an extremely powerful desktop publishing package which handles Urdu,
Arabic, Persian (Farsi), English and other languages with a high level of ease and harmony. Built on
a state-of-the-art multilingual software engine, Urdu InPage provides for flexibility in using
Arabic based writing systems (including Urdu) alongside English & other European languages, whether
separately, side-by-side or fully integrated within your documents.
Making use of hand-calligraphed Urdu fonts with thousands of individually designed 'ligatures' (or
unique character combinations), Urdu InPage offers real-time display of Urdu in the Nastaliq script.
This enables the user to layout Urdu & multi-language documents accurately, beautifully and quickly.
Running under MS Windows, Urdu InPage makes publishing not only easy but also enjoyable. You may
import images of most popular formats into your documents, move them around on the fly, write text
and create tables in any orientation and then dress it up with built-in colour and other typographic
/creative features.
Developed by Durrani Soft, with input from Multilingual Solutions in 2011, Urdu InPage has become
the de facto Industry standard not only in Urdu Desktop Publishing but also Urdu computing
throughout the world.
With Urdu InPage®, we hope you will find the tool which combines the power and flexibility of
mainstream desktop publishing with the calligraphic beauty of the Urdu Nastaliq script.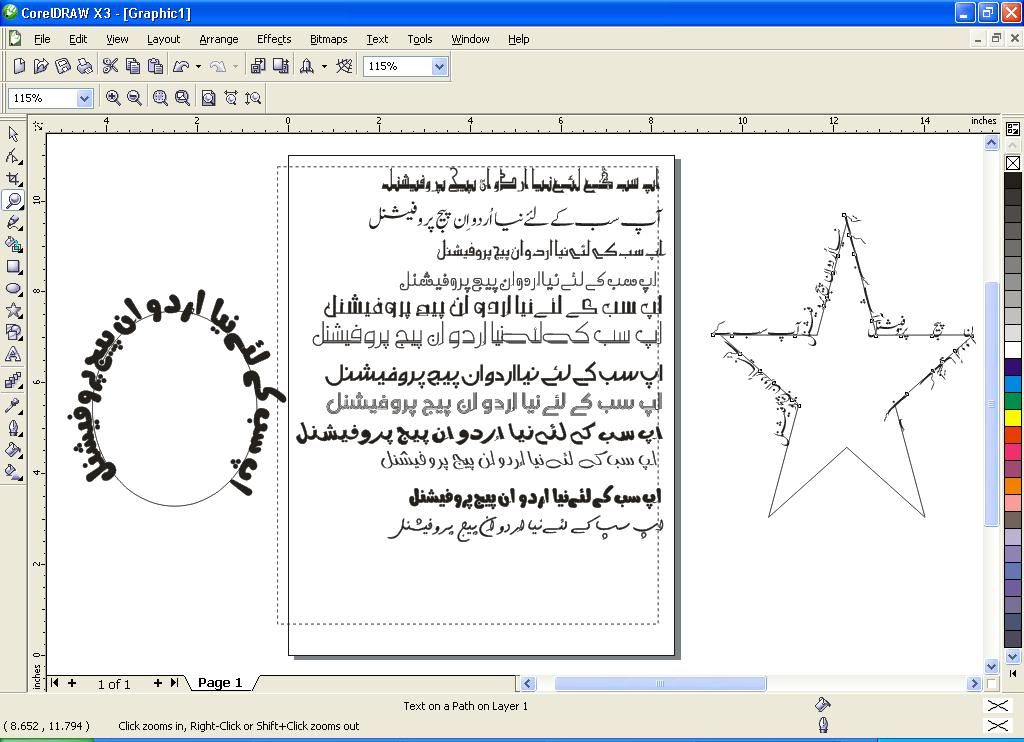 Urdu InPage Professional 2011Features
Supports all features of InPage Personal plus much more..........
Compatibility with Freehand 10, CorelDRAW 13, Adobe Illustrator and Adobe PhotoShop agencies.Text Features
• Automatic Kerning in Nastaliq text so as to remove extra interword space to give a calligrapher style outlook to the text.
• Automatic Kashida Insertion for arabic fonts
• Spell Check for Urdu language
• Word Count/Character Count for the selected text chain
• Indexing and Table of Contents of English and Urdu Text
• Wrap around of text around Circular objects
• Paste Special
• Rotation of text at any angle
• Sorting of Urdu and English Text
• Drag and Drop of Text
• Additional Noori Nastaliq Bold Font ( to be given in 2.1 as free upgrade)
• Additional Nastaliq font in Lahori Nastaliq
Object Features
• Linking/Unlinking of Text boxes
• Automatic lines between textbox columns
• Round Textbox
• Styles of Borders
• Paste Special
• Rotation of object at any angle
• Polygon Tool
• Rotation of Picture boxes and pictures
• Grouping and Ungrouping of Objects
• Complete support for OLE as a client
• Complete support for InPage as an OLE server
Picture Features
• Brightness and Contrast Controls of Pictures
• Mirror of Pictures
• Centering of Pictures
• Pictures Preview before opening them
Printing Features
• CMYK Color Separation by exporting the page as CMYK EPS file.
Language Features
• Support for Kashmiri, Pushtu, Kurdish and Hazargi Languages.
Others
• Multiple User Defined Keyboards
• Support for CMYK colors
• Automatic Backup of document files
• Generation of more than one backup files
• Many more border/line patterns
• Complete support for inserting OLE (Object Linking and Embedding) objects.
• Many More Fonts
This high-end industrial version is ideal for publishing and packaging houses and advertising
It supports all the features of InPage Basic plus a lot more. For instance:
Save as PDF option
Use PDF workflow to print seperations, control overprint
Kashish in Noori Nastaliq
Additional Nastaliq font, Faiz Nastaliq with Kashish
Automatic backup of document files
Download:
172 MB
http://rapidshare.com/files/440223318/Urdu_Inpage_pro_2011.rar
Mirror1:
http://www.4shared.com/file/1MD7QPWt/Urdu_Inpage_pro_2011.html
Mirror2 Video of Urdu Inpage Pro 2011
http://www.youtube.com/user/durranisoft85